A wide spiral ramp transports visitors to each level of The Guggenheim, and a dramatic domed skylight waits at the end of the journey. As one of Frank Lloyd Wright's most renowned creations, this modern art museum on Manhattan's Upper East Side continues to educate and inspire nearly 60 years after its opening.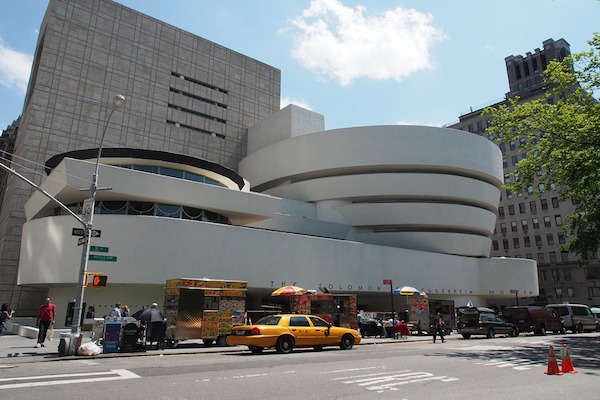 Established in 1939 as the Museum of Non-Objective Painting, the museum assumed its current name in 1952 and moved from a rented space to the Frank Lloyd Wright-designed location on Fifth Avenue in 1959. As one of New York City's most celebrated museums for showcasing modern art, The Guggenheim is known the world over for the architecture, particularly its inverted ziggurat design. The cylindrical structure – narrower on the top than at the base – is considered one of the great modern buildings of the 20th century.
Exhibitions
The museum houses an ever-growing stockpile of Impressionist, Post-Impressionist, Modern, and contemporary works, as well as an ongoing lineup of special exhibitions, many of which lean toward the avant-garde. Founded on several private collections including that of Solomon R. Guggenheim, the museum and its offerings continue to evolve.
With more than 6,000 works in its permanent collection, The Guggenheim is the home of pieces from famed modern masters such as Manet, Leger, Gauguin, and Klee, as well as one of the largest selections of Kandinsky paintings in the world. Temporary exhibits, as well as loans from other art museums and a shared collection with sister locations in Venice and Bilbao, add to the assortment. Mediums include painting, sculpture, work on paper, photography, film and video, internet art, and installation. In addition to art, the museum offers dance performances, lectures, musical concerts, and poetry readings. Every day at 2 pm., the museum provides an "Art in the Round" public tour that's free with admission.
Shop at the Guggenheim
Browse posters, clothing, jewelry, housewares, and more at the 2,000-plus square foot Guggenheim Store, adjacent to the museum entrance. Ideal for souvenirs, tchotchkes, and gifts, the shop's supply ranges from practical home furnishings to unique objects like Flensted mobiles and Andy Warhol pop art toys from Kidrobot. Limited edition prints, apparel, art books, as well as Frank Lloyd Wright-centric items are also available. Guggenheim members save ten percent on purchases.
Dine at the Guggenheim
When you're knee-deep in Chagall and hungry to boot, opt for lunch or brunch at The Wright. The chic restaurant serves American bistro food including soups and salads, as well as several main courses. The Wright pours cocktails, beer, wine, coffee, lattes, and espresso, and serves gelato, strudel, fresh fruit, and other sweet surprises for dessert. Design buffs will appreciate the well-thought-out interior – the restaurant won the 2010 James Beard Award for Best Restaurant Design.
On the third level, Cafe 3 provides snacks, pastries, and beverages including coffee, tea, wine, and beer. Appropriate for a quick, casual meal, the cafe boasts magnificent views of Central Park.
Hours and admission
The Guggenheim is open Monday, Wednesday, Friday, and Sunday from 10 am until 5:45 pm. Tuesday hours extend until 9 pm, and Saturdays extend until 7:45 pm. The museum is closed on Thursdays.
Admission is $25 for adults, $18 for students (with a valid student ID) and seniors (65 and over). Children under 12 and members are free. A global membership (to all three Guggenheim locations) for one costs $75 per year. Saturdays are pay what you wish from 5:45 until 7:45. A queue forms at 5:15 outside and the suggested admission is $10. The last entrance time is 7:15 pm.
Getting there
Take the 4, 5, 6 subway or the Q train to the 86th Street stop. Walk north to 89th Street and west to Fifth Avenue, or ride the M1, M2, M3, or M4 bus lines on Fifth or Madison Avenue.
The Solomon R. Guggenheim Museum
1071 5th Ave (at 89th St)
New York, NY  10128
(212)423-3500
guggenheim.org
By Tracy Kaler