Venture north of metropolitan New York City into Upstate NY and you can find towns and cities where great events are held throughout the year – with April no exception.
While much of upstate New York could be described as quiet and secluded, you don't have to look hard to find plenty of things to see and do. Among the attractions are tons of top-notch events from Buffalo in the west all the way across to Albany in the east. If you're visiting the area this April and would like to know what's gong on during your dates of travel, we've picked out 10 of the best regional events to look out for.
Red Hot Chili Peppers 
Legendary American rock band the Red Hot Chili Peppers are returning to Upstate New York for one night only this April to perform at the JMA Dome. Inducted into the Rock & Roll Hall of Fame in 2012, the bank are best known for hit songs like "Give It Away," "Scar Tissue," "Californication" and "Otherside." King Princess and The Strokes will be openers for the Syracuse concert, which is part of a wider US tour that also takes in Las Vegas, Fargo, Minneapolis, San Diego, Phoenix, San Antonio, Gulf Shores, and Houston.
JMA Wireless Dome, Syracuse / 14 April 2023
'Reused Restored Rethought: Glass After the 1972 Chemung River Flood' exhibition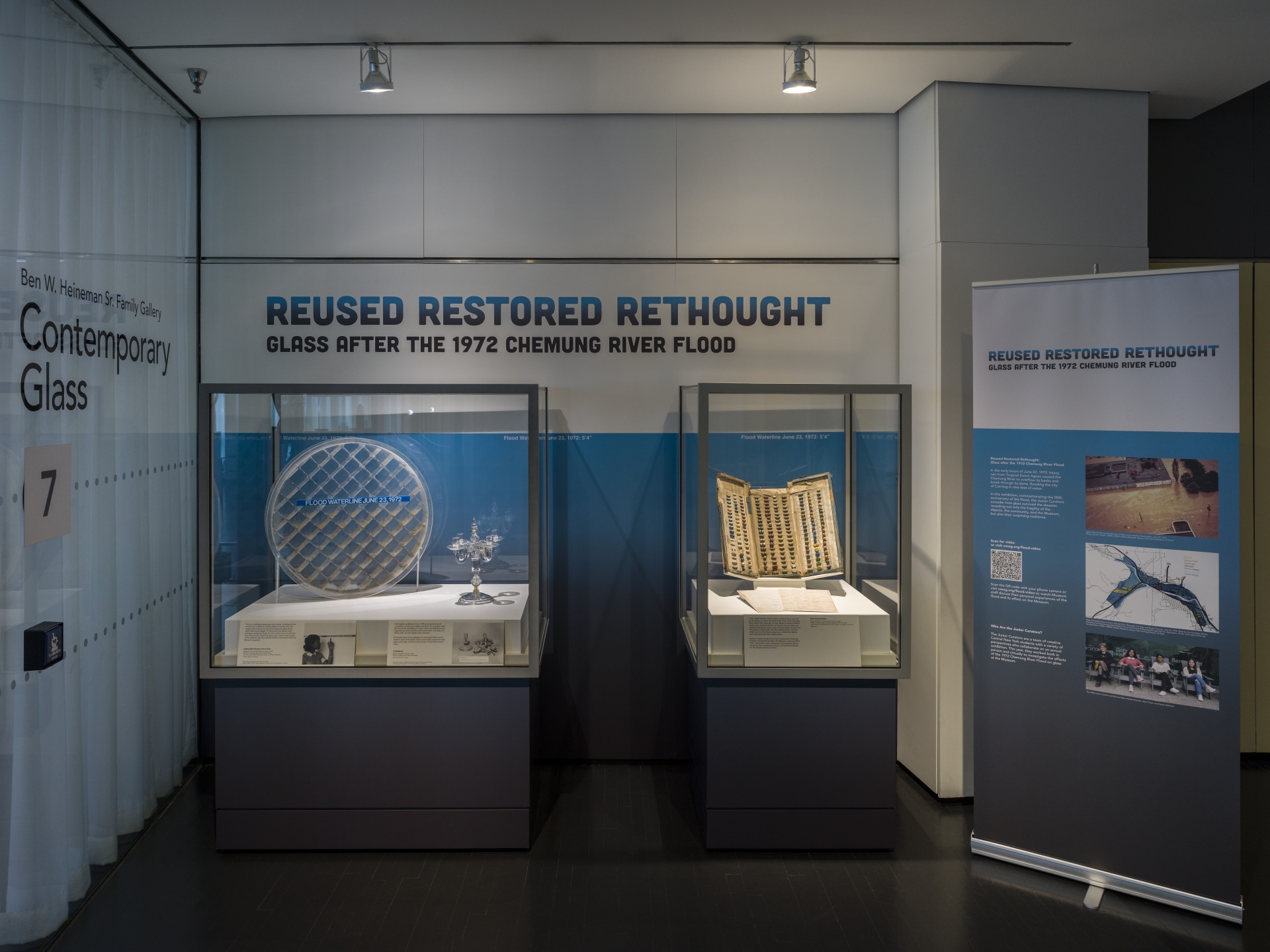 In the early hours of June 23, 1972, heavy rain from Tropical Storm Agnes caused the Chemung River that runs through south central New York and northern Pennsylvania to overflow its banks and break through its dams, flooding the city of Corning in nine feet of water. Commemorating the 50th anniversary of the devastating flood, this exhibition considers how glass managed to survive the disaster, revealing not only the fragility of the objects, the community, and the museum, but also their surprising resilience.
Corning Museum of Glass, Corning / Through April 2023
Dark Force Fest 
The inaugural edition of Dark Force Fest kicks off at the end of March, running into April with three full days of live music in the striking surroundings of Sheraton Parsippany Hotel, a castle-themed property in New Jersey. The event's debut line-up will include a plethora of darkwave, industrial, goth, and post-punk bands, including Vision Video, Empathy Test, Rosegarden Funeral Party, Bootblacks, Leathers, and many more. In addition to over thirty bands, the festival will also feature over a costume contest, cosplay guests, sideshow performers, and informative panels.
Sheraton Parsippany Hotel, Parsippany-Troy Hills, New Jersey / 31 March – 2 April 2023
'Oil & Water' exhibition
Some people believe that the Iroquois experience from 1800 to the 1950s was distinguished by US government policies of removal, assimilation, and the dismantling of traditional languages and lifeways. In the face of such cultural upheaval, very few Haudenosaunee painters from this period were documented, and even less so, celebrated. Indeed, portrayal or interpretation of traditional stories, cultural beliefs and practices using these formal mediums was widely discouraged. Artists Ernest Smith, Jim Beaver, and Jesse Cornplanter were among the few Iroquois who embraced painting despite these obstacles, and this exhibition showcases 42 of the trio's works.
Iroquois Museum, Howes Cave / 1 April – 30 November 2023
Saratoga Martial Arts Festival
Self defence fans visiting Saratoga this April are in for a treat as the town plays host to its annual Martial Arts Festival. One of the region's biggest martial arts gatherings for over two decades, the two-day event features hands-on instructional workshops in striking, grappling, and weapons arts,  as well as a Saturday Night Banquet. Over fifteen instructors specialising in martial arts from around the world will be present to impart their expert knowledge and skills to visitors of all backgrounds and experience levels.
The Holiday Inn, Saratoga Springs / 15-16 April 2023
'100 Years of Madame Alexander' exhibition
Held in conjunction with Madame Alexander Doll Company's year-long Centennial Celebration, this exhibition celebrate the legacy of Madame Beatrice Alexander, who founded the eponymous company in 1923. Through a range of displays and artefacts, visitors can learn how Alexander changed the toy and doll industries and grew her company into a leading doll manufacturer. Follow the evolution of the brand from the Great Depression to today and see more than 30 dolls from across the decades, including a cloth Alice in Wonderland doll, a Jacqueline Kennedy doll, pioneering fashion doll Cissy, classic Wendy collectibles, and many others.
The Strong National Museum of Play, Rochester / Through 2023
'Hoop Dreams: Basketball and Contemporary Art' exhibition
Considered the fastest growing sport in the world, basketball has hundreds of millions of players and fans across the globe. Basketball is more than just a game, however; it is also a vast cultural universe spanning fashion, music, film and electronic media, dance, art, and design. While the athleticism of the game, its personalities, and the widespread culture of basketball have served as creative inspiration for artists for decades, there is a new generation of artists approaching the topic from diverse perspectives. This exhibition brings together a roster of emerging and mid-career artists who, as fans, players, or just cultural observers, are adding to the dialogue about basketball's impact today.
Everson Museum of Art, Syracuse / Through 21 May 2023
Shen Jazz Festival
Founded in 2004, this festival was set up with the aim of providing educational workshops and hands-on jazz experience for young students at a time when public schools tended to emphasise choral, orchestral and general music. The annual, district-sponsored event brings in world-class talent to teach and perform Jazz for students from grade six through to high school. At the concert's climax, around 150 kids get to perform onstage with a top-flight Jazz luminary.
Shenendehowa High School, Clifton Park / 25-28 April 2023
Buffalo Blues & Roots Festival
A staple of Buffalo's entertainment calendar, this hugely popular music festival features a stellar roster of local, regional an national Blues and Roots acts. Notable names to have appeared over the years include Ray Barry & friends, Sharon Bailey and the X-Statix, The Growlers Blues Band, Tonemah and more. As well as the dazzling array of live music, there are also several local vendors and artisans selling crafts and other wares.
Buffalo Riverworks, Buffalo / 22 April 2023
'Marcia Resnick: As It Is or Could Be' exhibition
With her portraits of major cultural figures such as Jean-Michel Basquiat, John Belushi, and Susan Sontag, photographer Marcia Resnick earned recognition as part of the legendary Downtown New York art scene of the 1970s and 1980s. Indeed, Resnick is considered one of the most ambitious and innovative American photographers of that era. Combining social critique with poignant, often humorous performance, her photographs explore aesthetic, social, and political issues, creating work that challenged traditional ideas about what a photograph could be. This exhibition brings together for the first time her extraordinary photographs from this period.
George Eastman Museum, Rochester / Through 11 June 2023
By Paul Joseph