Spanish tapas have become a staple in the New York dining scene. Savory dishes such as camarones al ajillo (shrimp with garlic sauce), pulpo (Spanish octopus), and boquerones (anchovies with piquillo pepper, olive oil and vinegar) dot the menus of cozy eateries spread throughout the city. For a taste of Spain and a smorgasbord of delicious appetizers, visit any of these New York tapas bars.
Buceo 95
"A touch of Spain between Broadway and Amsterdam," this dimly lit wine and tapas bar bustles with Upper West Siders. They go for the patatas fritas (potato chips), maiz con chorizo (grilled corn with butter and chorizo picante), and calamari frito (fried calamari with squid ink rice and garlic aioli), as well as more than 40 wines by the glass. Buceo 95 gets packed during and after the bar's happy hour – Sunday to Thursday from 5 until 7 p.m. daily – so be prepared to wait for a table.
201 W 95th St
Despaña Fine Foods & Tapas Café
A sister outpost of Despana Brand Foods in Queens, this café and wine bar serves a variety of bocadillos, tortillas, pintxos, and other Spanish dishes. Many ingredients are imported from Spain, while still others hail from local producers. After indulging in a plate of Iberico ham and assorted cheeses, sate your sweet tooth with a piece of Afuega cheesecake (made with Afuega'l Pitu cow's milk cheese), and wash it down with a café con leche.
408 Broome St
Ortzi
Chef Jose Garces cooks up his interpretation of Basque cuisine in this sleek, modern wine bar in Luma Hotel Times Square. Menu highlights range from croquetas de jamon (ham croquettes) and albondigas (beef meatballs), to roasted foie gras, paella, and plenty of queso and charcuteria (cheese and meat). The Spanish wine list offers Garnacha blends, juicy Tempranillo, Cava brut, and a daily selection of Txakolina – the slightly fizzy white wine native to Basque Country. 
120 W 41st St
La Vara
At this outpost in Cobble Hill, Brooklyn, husband and wife Eder Montero and Alex Raij introduce Jewish and Moorish-inspired tapas. Enjoy dishes like Salmorejo (salt cod carpaccio, fresh tomato, mimosa egg, dried black olive, za'atar) and gurullos (handmade Murcian pasta, yogurt, brown butter, sumac, mint).The restaurant's narrow, brick-walled space provides tables with communal seating and a casual vibe.
651 Manhattan Ave
Addictive Wine and Tapas Bar 
When in Queens, venture to this elegant tapas bar in Jackson Heights. Begin with the ensalada de aguacate (avocado, heirloom tomatoes, fresh basil and cilantro) followed by the pollo con brie (chicken brie, pear chutney, garnished with sprouts and honey). To drink, choose from an impressive international wine list with bottles from Spain, Portugal, Greece, South America, and other regions. For a special treat, visit Addictive Wine and Tapas Bar on Flamenco night, when live dancers accompany five courses of delicious food with wine pairings. Tickets cost $100 per person. 
87-01 Northern Blvd.
Boqueria
"Kioskos" or stands surrounding the El Mercado de la Boqueria in Barcelona influenced this tapas bar in the Flatiron District. Chef Marc Vidal and his team churn out calamares (baby squid, white beans, preserved artichokes, Calabrian chilies, and squid ink), and espinacas a la Catalana (sauteed spinach with garbanzos, raisins, and chick peas). Each pairs well with Sangria of the day, a unique cocktail like the shishito margarita made from shishito pepper-infused tequila, and a variety of Spanish wines. Besides the original location, Boqueria has three other spots in Manhattan.
53 W 19th St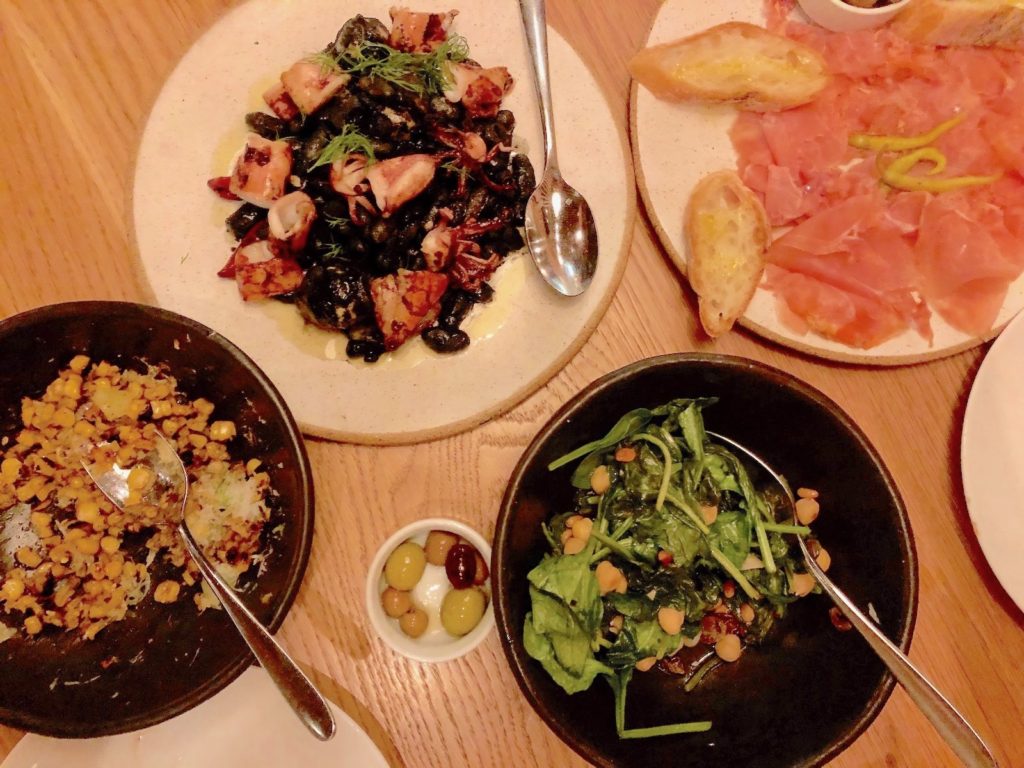 Chef Marc Vidal and his team churn out a diverse selection of tapas at the city's four Boqueria locations. (Photo: Tracy Kaler)
By Tracy Kaler