Book Online or Call us 24/7:
1-877-204-8337

Survey
New York City's Most Expensive Luxury Hotel Is the St. Regis
May 7, 2013
NewYorkHotels.org has just compiled a ranking of the most expensive NYC accommodations and the St. Regis Hotel has topped the list. The survey, which compared the rates of all luxury hotels in New York City over the past year, found St. Regis to be more costly than all its competitors.


In coming up with the rankings, the survey set the rate for a standard double room as the basis of comparison. That means all prices reflected represent the minimum amount a guest at each establishment had to pay over the 12-month timeframe.


To stay overnight at the St. Regis this past year, visitors paid an average of $823 for the most affordable room. Trailing just behind in the number two slot was the Mandarin Oriental with an average rate of $814 per night. Rounding out the top three was the Four Seasons, which averaged $765 per night.


The following table shows the 20 most expensive hotels in NYC. The rates listed reflect the average price for a standard double room at each hotel for the period spanning May 2012 to April 2013.

1. The St. Regis (East 55th Street) $823
2. Mandarin Oriental (Columbus Circle at 60th Street) $814
3. Four Seasons (E 57th Street) $765
4. The Ritz-Carlton Central Park (50 Central Park South) $764
5. Trump International Hotel & Tower (1 Central Park West) $745
6. The Peninsula (700 Fifth Avenue at 55th Street) $744
7. Crosby Street Hotel (79 Crosby Street) $678
8. Hotel Plaza Athenee (37 E 64th Street) $646
9. The Setai Fifth Avenue (400 Fifth Avenue) $639
10. The Waldorf Towers (100 E 50th Street) $635
11. The Plaza (Fifth Avenue at Central Park South) $632
12. The Lowell (28 East 63rd Street) $613
13. The Pierre (2 E 61st St) $612
14. The Surrey (20 E 76th St) $587
15. The Carlyle (35 E 76th St) $583
16. The Chatwal (130 W 44th St) $579
17. The Sherry Netherland (781 5th Ave) $576
18. The Towers at The New York Palace (455 Madison Avenue ) $574
19. The Mark (Madison Ave at 77th Street) $563
20. The Pearl (233 West 49th Street ) $479



About the Methodology
For all luxury hotels in New York City, the average rate for the most affordable double room was calculated. The period spanning May 1, 2012 to April 30, 2013 reflects the calculation period. The rates were established for each Tuesday to Thursday and for each Friday to Sunday over the 12-month period, always about one month in advance. The rates were either taken from the respective hotels' websites or drawn from the leading hotel-booking sites. In all cases, the lowest available price was used in tabulating the results. The rates shown do not include taxes, which amount to about 15%.

Press Contact: Danielle Carter, press@newyorkhotels.org


Find Hotels by Location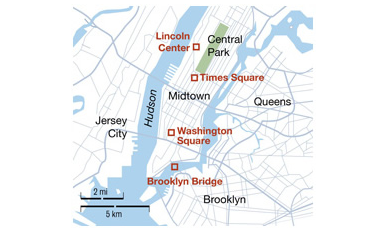 Neighborhoods in NYC
Landmarks in NYC
Destinations in NY/NJ State