Book Online or Call us 24/7:
1-877-204-8337

Survey
NYC's Garment District Most Expensive Neighborhood
June 28, 2012
The Garment District will charge Manhattan visitors more than any other NYC neighborhood to stay overnight this summer. According to a new survey by NewYorkHotels.org, this fashion center, which is bounded by Fifth and Ninth Avenues and stretches from 34th to 42nd Street, is NYC's most expensive area in terms of its lodging costs. In coming up with the rankings, the site compared the rates of the cheapest available double rooms at establishments throughout the city for the time period of June through August 2012.


An overnight stay in the Garment District at a hotel with a 3-star rating or higher will cost Big Apple visitors a minimum of $276. Taking the number two slot was SoHo in Manhattan's lower end. There accommodations of the same level will run guests $270 nightly. Third on the list was the West Side neighborhood of Chelsea with a per-night rate of, on average, $261. Staying on the East Side, in Midtown East and the Upper East Side, on the other hand, will be much more affordable. These two neighborhoods are charging an approximate average rate of $200 nightly for their cheapest available 3-star hotels, making them the most affordable Manhattan locales.


If a 2-star hotel meets their lodging requirements, New York City travelers can find the most affordable deals in the Murray Hill District. The cheapest available double room in this Midtown neighborhood will cost them an average of $182 per night. Snagging an accommodation for a less costly price will require visitors to stay outside of Manhattan. In that case, the JFK Airport area is their best option. There rooms can be found for about $120 nightly, the survey uncovered.


The following table shows the various districts in New York City and their average rates for the cheapest available double room for the period spanning June to August 2012. The figures in the first row consider only hotels rated 3 or more stars. The second and third rows consider hotels with a minimum star rating of 2 and 4, respectively.


Inside Manhattan
Min: 3 stars
Min: 2 stars
Min: 4 stars
Garment Disctrict
$276
$194
$327
SoHo
$270
$214
$364
Chelsea
$261
$240
$290
Times Square
$259
$238
$280
Rose Hill
$251
$188
$267
Murray Hill
$239
$182
$264
Hell's Kitchen
$231
$229
$290
Financial Disctrict
$229
$229
$255
Lower East Side
$227
$191
$287
Upper West Side
$208
$193
$264
Midtown East
$199
$199
$242
Upper East Side
$197
$195
$276
Outside Manhattan
Min: 3 stars
Min: 2 stars
Min: 4 stars
Brooklyn
$194
$148
N/A
Long Island City
$191
$138
N/A
JFK Airport
$158
$120
N/A
La Guardia Airport
$134
$134
N/A
About the Methodology
The survey was conducted from May into June 2012. For 16 neighborhoods in New York City, the price for the cheapest available double room (minimum 3 star hotel) was established for the following periods: June 5–7, June 8–10, June 19–21, June 22–24, July 10–12, July 13–15, July 24–26, July 27–29, August 7–9, August 10–12, August 21–23, and August 24–26. Based on this data, an average price was calculated for each neighborhood. The survey was re-conducted twice, once with all hotels rated a minimum of 2 stars and second only with those accommodations rated 4 stars or above.


Find Hotels by Location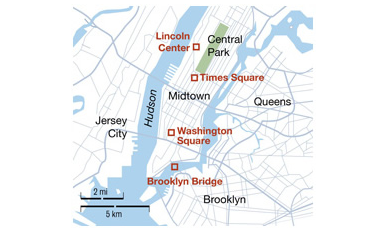 Neighborhoods in NYC
Landmarks in NYC
Destinations in NY/NJ State