Book Online or Call us 24/7:
1-877-204-8337

Survey
NYC: Manhattan's Hotel Rates Soaring This New Year's Eve
December 17, 2015
New Year's Eve celebrators who plan on watching the ball drop in New York City's Times Square but haven't yet booked a room are in for some sticker shock. A new survey from NewYorkHotels.org has just revealed that Manhattan hotel rates are soaring in anticipation of the December 31st holiday.


At the time the survey was conducted, approximately 30% of hotels in Manhattan were still showing December 31st vacancies. At this late hour, however, guests at these hotels can expect to pay an average of 187% more than they would on an ordinary day. And a select few hotels in the area are skyrocketing their rates to in excess of 500% more than they usually charge. (see table below)


Even the cheapest available double room in Manhattan (rated at least 3 stars) isn't such a bargain this New Year's Eve. The lowest amount hotel seekers can expect to see is $400. If they want a better rate, they should plan on staying three nights (December 31 through January 3).Then they will find rooms for under $250 nightly.


Compared to last year, overall hotel demand and rates are significantly higher. According to Danielle Carter from NewYorkHotels.org, this is most likely due to legal actions by New York City authorities toward Airbnb locations. Such sanctions have significantly reduced the number of offers on Airbnb, thereby driving up demand for hotels in the Big Apple.


The following table shows the 10 hotels in New York City with the highest rate increases for New Year's Eve 2015. Regular rates reflect the price for the same room a week later.


| | | | |
| --- | --- | --- | --- |
| Name of Hotel | Room Type | Regular | Dec 31 |
| | | | |
| Hotel Pennsylvania/ | Superior Room | $90 | $619 |
| Hilton Times Square | Queen Room | $199 | $1239 |
| Wellington Hotel | Standard Room | $119 | $789 |
| Best Western Herald Square | Standard Room | $126 | $720 |
| The Nolitan | Deluxe Queen | $195 | $1104 |
| Novotel Times Square | Standard Room | $149 | $819 |
| Hilton Garden Inn | Standard Room | $149 | $809 |
| Hampton Inn Times Square | King Room | $158 | $845 |
| Hampton Inn Madison Square G. | King Room | $116 | $617 |
| Herald Square Hotel | Queen Room | $104 | $476 |
Find Hotels by Location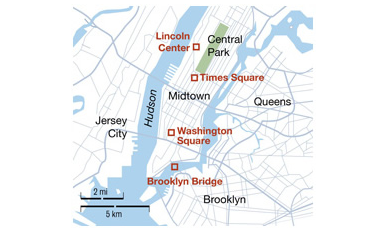 Neighborhoods in NYC
Landmarks in NYC
Destinations in NY/NJ State