Book Online or Call us 24/7:
1-877-204-8337

Survey
Hotel Rates in NYC Soar for New Year's Eve
December 29, 2014
Ringing in the New Year in New York City's Times Square is going to be costly this year for those individuals still needing a hotel room. Hotel rates in the Big Apple have climbed significantly as New Year's Eve fast approaches. That's the finding of a new survey from NewYorkHotels.org.


Scoring a last-minute room isn't the main issue. In fact, four out of 10 Manhattan hotels are presently still listing vacancies for December 31. Affording these rooms, however, is another matter entirely. Averagely speaking, these available rooms will cost New Year's Eve celebrators 167% more than they normally would. And to stay in some New York City establishments on New Year's Eve, guests can expect to encounter rate elevations of 300%.


Even the cheapest available room in Manhattan (3-star rating minimum) is hovering around $300 for an overnight stay on New Year's Eve. They only way around such skyrocketing prices is to commit to a three-night stay. Guests booking rooms from December 31 through January 3 or December 30 through January 2 will see their average per-night charge drop to approximately $200.


However, compared to New Year's Eve 2012, hotel rates have increased more moderately. Two years ago at the same time, less than 10% of hotels still had available rooms, and the rate hikes were then significantly higher as a result.


The following table shows the 10 hotels in New York City with the highest rate increases for New Year's Eve 2014. Regular rates reflect the price for the same room a week later.


| | | | | |
| --- | --- | --- | --- | --- |
| Name of Hotel | Room Type | Regular | Dec 31 | Increase |
| | | | | |
| Four Points SoHo Village | Traditional Room | $115 | $575 | +400% |
| Element Times Square West | Standard Room | $129 | $625 | +384% |
| Millennium Broadway Hotel | Superior Room | $199 | $961 | +382% |
| Hilton Garden Inn Times Square | King Room | $149 | $699 | +369% |
| Hotel Stanford | Standard Room | $111 | $479 | +331% |
| Americana Inn | Standard Double | $80 | $326 | +307% |
| Eurostars Wallstreet | Standard Room | $104 | $413 | +297% |
| Renaissance Times Square | Superior Room | $269 | $939 | +249% |
| Hotel Verite | Standard Suite | $278 | $899 | +226% |
| Hotel Azure | Standard Room | $129 | $409 | +217% |
Find Hotels by Location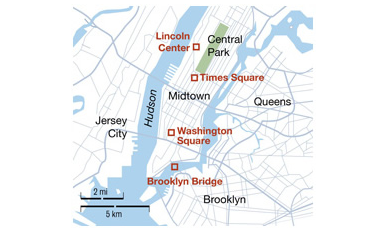 Neighborhoods in NYC
Landmarks in NYC
Destinations in NY/NJ State