Book Online or Call us 24/7:
1-877-204-8337

Survey
The Most Expensive Destinations in New York State
July 29, 2014
Montauk, an oceanfront hamlet along Long Island's eastern shore, has earned the distinction of being New York State's most expensive destination this summer. A recent survey conducted by NewYorkHotels.org came to this determination after comparing 20 of the state's main destinations. Lodging cost served as the basis of comparison.


An average nightly rate of $342 catapulted Montauk to the top of the rankings. The neighboring village of East Hampton trails only slightly in the number two spot with an average overnight rate of $332. Rounding out the Top 3 is the city of Saratoga Springs, where August guests can expect to pay an average of $312 per night for the most affordable double room.


At the bottom of the list in the least expensive slot is Watertown. According to the survey, visitors to this city south of the Thousand Islands should be able to score a room for under $100 nightly. The metropolis of New York City ranks eighth most expensive on the survey. An average overnight price tag of $123 for the least expensive double room positioned it in the Top 10.


The following table compares 20 destinations in New York State based on the cost of lodging. The rates indicated reflect the average cost a couple will have to spend to stay in the cheapest available double room during the period spanning August 1–31, 2014. Only such hotels or bed and breakfasts rated at least 3 stars and well situated close to the beach or city center have been included in the rankings.


1. Montauk $342
2. East Hampton $332
3. Saratoga Springs $312
4. Southampton $295
5. Greenport $264
6. Cooperstown $184
7. Niagara Falls $163
8. New York City $153
9. Geneva $143
10. Ithaca $142

11. Lake George $141
12. Buffalo $137
13. Oneonta $136
14. Rochester $134
15. Syracuse $128
16. Alexandria Bay $127
17. Long Island City $116
18. Oswega $103
19. Lake Placid $102
20. Watertown $92

Press Contact: Danielle Carter, press@newyorkhotels.org
Find Hotels by Location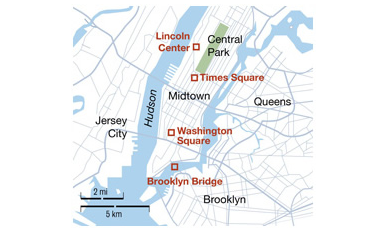 Neighborhoods in NYC
Landmarks in NYC
Destinations in NY/NJ State