Book Online or Call us 24/7:
1-877-204-8337

Survey
The Most Expensive Destinations in New York State
July 5, 2016
East Hampton has just been named the most expensive destination in the state of New York. A recent survey conducted by NewYorkHotels.org came to this conclusion after comparing 20 popular destinations.


The cost of lodging during the months of July and August served as the comparative basis. More specifically, the survey established the average rate for the cheapest available double room (minimum of a 3-star rating) for each destination.


Averaging $324 nightly for its most affordable room, the town of East Hampton tops the rankings. East Hampton's sister of Southampton comes in as the third most expensive destination. An average overnight cost of $289 puts it in the number three spot. Together, East Hampton and Southampton make up the Hamptons.


Shelter Island sits between the two Hampton sisters on the survey. Averaging $308 per night, it is situated in the number two slot. New York City falls further down in the rankings, making it somewhat of a bargain for the upcoming summer months. An average cost of $154 per night lands it at number nine in the rankings. Trailing just behind at an average rate of $148 nightly, Downtown Brooklyn rounds out the Top 10.


The following table compares 20 destinations in the state of New York this summer. The rates indicated reflect the average rate for the cheapest available double room (rated at least 3 stars) for the time period spanning July 1 to August 31, 2016.


1. East Hampton $324
2. Shelter Island $308
3. Southampton $289
4. Saratoga Springs $268
5. Southold $207
6. Geneva $189
7. Niagara Falls $179
8. Lake George $156
9. New York City $154
10.Downtown Brooklyn $148

11. Syracuse $142
12. Buffalo $142
13. Oswego $139
14. Lake Placid $137
15. JFK Airport $137
16. Albany $134
17. Watertown $126
18. Long Island City $123
19. Rochester $122
20. Plattsburgh $117

Press Contact: Danielle Carter, press@newyorkhotels.org
Find Hotels by Location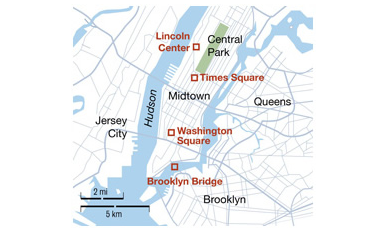 Neighborhoods in NYC
Landmarks in NYC
Destinations in NY/NJ State