Times Square


Times Square is yet another New York location that is well known in different places around the world. As a visitor you can just stand still and watch all the action in this busy square with its huge

colorful advertisements, flashing lights and Broadway shows. Times Square is also famous for its celebrations on New Year's Eve.
Empire State Building


Famous around the world, the Empire State Building is certainly a site not to be missed when in New York. This tall dramatic skyscraper building in the center of Manhattan is one of the top

attractions for tourists to the area. You can marvel at the breathtaking view of the city skyline from the observation deck.
Statue of Liberty


The Statue of Liberty is another site that is recognized around the globe. This monument symbolizing liberty and freedom is a must see when in New York. You can access this monument via ferry

and also enter the monument itself.
Central Park


Central Park, that is renowned around the world, has plenty to offer its visitors. In addition to the beautiful trees and scenery, the Central Park features concerts and special events and is home to

several attractions such as the Bow Bridge, reservoir, Bethesda Fountain, Belvedere Castle, and of course the greatly loved Central Park Zoo.
Brooklyn Bridge


While in New York you simply have to catch a glimpse of the world famous Brooklyn Bride that was first opened in 1883. This long suspension bridge that connects Brooklyn and Manhattan has

become a part of the American culture and has been featured in scenes of many movies.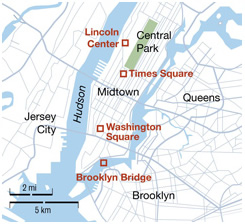 Cities in New York State:
Other Cities:

Top Attractions


Enjoy authentic Italian cuisine in Little Italy, take a stroll down 5th Avenue, catch a show at Radio City Music Hall or visit the Museum of Modern Art. The city that never sleeps won't disappoint you.

Car Rental


If you need to rent a car in New York City, you can quickly find the right car on our site by comparing prices from over 100 rental car companies.

Travel Mag


Looking to escape reality? From family vacations to romantic getaways, countless travel opportunities abound. We can help you find the perfect itinerary to suit your needs and budget.