Book Online or Call us 24/7:
1-877-204-8337

Survey
Syracuse Hotels Enjoying Only Marginal Profit Increases from State Fair
August 21, 2012
A new survey from NewYorkHotels.org has looked at the hotel situation in Syracuse for the Great New York State Fair, which will run from August 24 through September 3. All regular hotels with a minimum 2-star rating in the following areas were included: Downtown Syracuse, East Syracuse (close to the airport), around the fairgrounds, and Liverpool (a suburb close to the fairgrounds).


In tabulating the results, available New York State Fair area hotels and their rates for a double room were established based on research conducted on August 20 at the leading hotel booking sites. The survey unearthed some interesting findings. In terms of the percentage of Syracuse hotels with available rooms, over 50% of establishments showed vacancies for three prime overnight timeframes: August 25-26 (52%); August 29-30 (69%); and September 1-2 (56%).


Perhaps more eye-opening, the average rate increases over the regular prices for available rooms were only marginal for those same three time periods. The first weekend of August 25-26 saw the biggest price hikes at 23%. In contrast, fair goers wanting to stay in Syracuse overnight from August 29 into the 30th or the second weekend of September 1-2 will pay only 11% and 16% more respectively.


Following are the average rates for the cheapest available double room during each the aforementioned two-day periods of the New York State Fair. For comparative purposes, each of the Syracuse areas examined by the survey is shown separately.
| | | | |
| --- | --- | --- | --- |
| | Aug 25-26 | Aug 29-30 | Sept  1-2 |
| Downtown Syracuse: | $149 | $143 | $136 |
| Fairgrounds: | $169 | $126 | $149 |
| East Syracuse: | $120 | $50 | $103 |
| Liverpool: | $99 | $76 | $92 |
Find Hotels by Location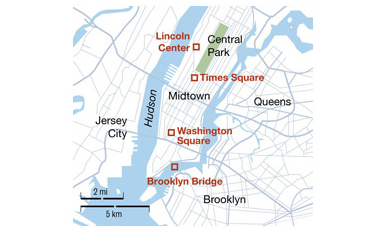 Neighborhoods in NYC
Landmarks in NYC
Destinations in NY/NJ State